What Professional Restaurant Linens Do for the Customer Experience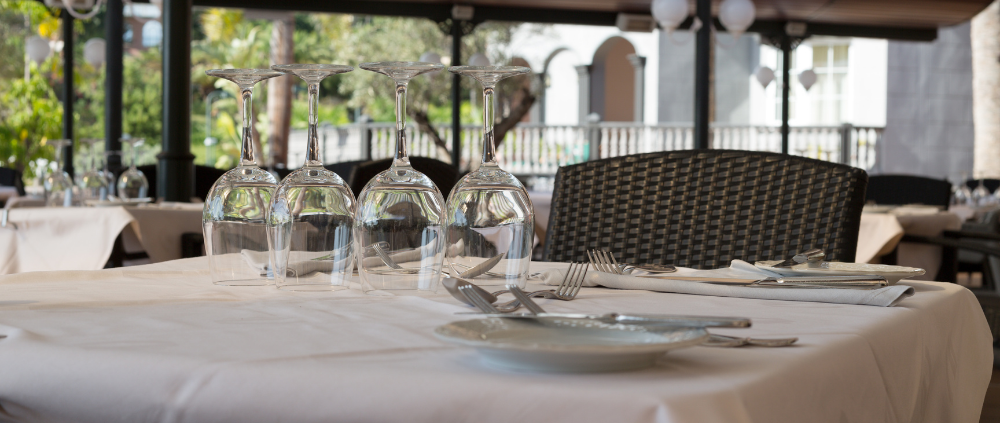 California has one of the most vibrant dining scenes in the nation. Such a robust atmosphere comes with one guarantee: the diners are also some of the most opinionated ones. They have a true eye for detail and a discerning palate for quality dining. Nothing is ever too small to go unnoticed. Certainly, your linens will never go overlooked, and that's why it's important to examine what professional restaurant linens do for the customer experience.
Better Restaurant Linens Make for Better Customer Experience
What professional restaurant linens do for the customer experience is too great to ignore. Your table linens do more than just keep your tables safe from food and other spills. They can actually make or break the dining experience. Here's how:
Professional Appearance
As much as food is the star of the dining experience, it is not responsible for making first impressions. The visuals do that – and your restaurant linens are a central part of it. The style, cleanliness, and overall quality of your table linens create the model for your food presentation. Clean, crisp linens indicate professionalism and leave diners with a distinct sense of ease.
High Levels of Cleanliness
Clean, high-quality linens are also a good indicator of hygiene. The last thing you want is to sully a perfectly good meal over stained and/or smelly linens. Professional linens allow your diners to enjoy their food without fear of getting food poisoning.
Reduced Restaurant Noise
There are many things that can ruin a perfectly good restaurant experience. Among them is unbearable noise. Restaurant noise, in fact, ranks as the top complaint of older diners according to a 2018 Zagat survey. Linens can remedy that. They are an easy and cost-efficient way to soften restaurant and cutlery chatter in your restaurant. Note, however, that thin, substandard linens won't make the cut. You'll need high-quality, professional restaurant linens to get the job done.
And there's only one place for the best selection of professional restaurant linens in California: RAMMCO!
RAMMCO is the Pinnacle of What Professional Restaurant Linens Do for the Customer Experience
RAMMCO is the undisputed leader in professional restaurant linen service. We have nearly nine decades in the business and have mastered the art and science of top-notch restaurant linens. Our services guarantee:
Excellent product selection.

Our wide assortment of

restaurant linens and uniforms

cover your needs from the dining room to the kitchen. We can even supply you with

restroom products

!

Professional textile care.

RAMMCO has the most dependable maintenance services in the industry for your linens and garments. We have professional experience and modern facilities to help you get the best results for your products.

Superior rental services.

Linen shortages and backlogs are the least of your worries with RAMMCO. We have a team of experts who work tirelessly to ensure the accuracy and timeliness of your services. No delays, no mix-ups, no hassles, and absolutely nothing to worry about.

Integrity in every transaction.

Your trust means everything to us. And we return this trust with customer support, tailored solutions, and full transparency.
Contact RAMMCO Today!
Create better impressions and a better dining experience at your restaurant with a little help from RAMMCO! Call us today at 916.865.6301 to sign up for your California restaurant linen service! Have more questions? Send us your inquiries here.
https://www.rammcoservices.com/wp-content/uploads/2021/11/What-Professional-Restaurant-Linens-Do-for-the-Customer-Experience.png
667
1000
Rammco
Rammco
2021-11-22 16:16:33
2023-03-13 14:38:10
What Professional Restaurant Linens Do for the Customer Experience