Improve Hotel Guest Experience with Linen Service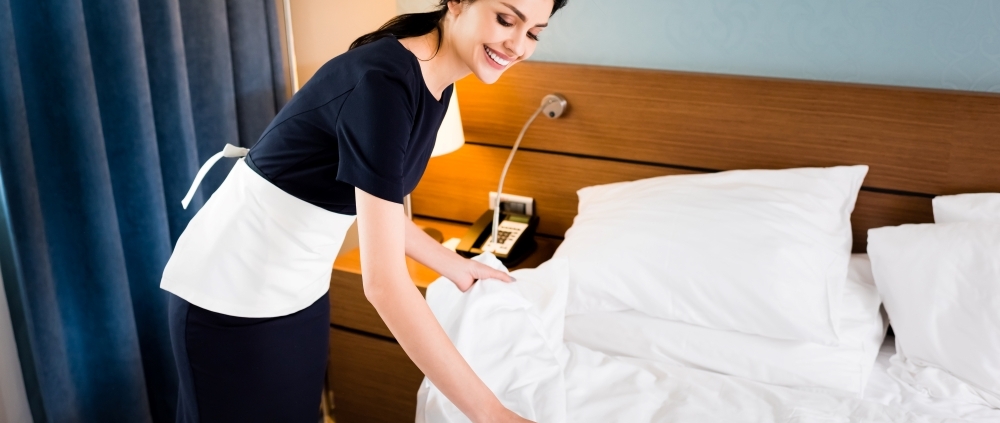 Rammco is a leading provider of linen and laundry services for the hospitality industry. We enhance the guest experience at hotels by providing clean, fresh, and well-maintained linens that sport a quality second to none, extending the warm embrace that your guests expect. Entrust Rammco to leave no stone unturned and go the extra mile to Improve hotel guest experience with linen service! Here are a few ways we use our resources to elevate the standard of comprehensively exceptional hotel service.
Upholding the Hygienic Standard 
Rammco improves the guest experience by communicating unwavering dedication to care in each thread of our high-quality linens. We maintain high standards for cleanliness and hygiene. The company uses state-of-the-art equipment and processes to ensure that all linens and textiles are thoroughly cleaned and sanitized. This not only gives guests peace of mind but also helps to reduce the heightened risk of illness and infection in hotels with heavy foot traffic.
Empowered By Products & Services
Rammco enhances the guest experience by providing a wide range of quality linens and textiles. We understand that your unique business requires tailored solutions that uphold the image of your business. That's why we offer different fabrics and thread counts as well as separate colors and styles to suit the needs of different hotels and guests. Each of our products and services features a level of quality that fosters a comfortable and welcoming atmosphere for guests while also reflecting their brand and style.
We offer a range of other services designed to improve the guest experience. Our industrial laundering services ensure quick turnaround time. This way, hotels have a steady stream of professional, elegant, and clean linens around the clock. Our passionate customer service team is on standby 24/7 to address your questions and concerns and relieve the managerial stresses that overwhelm even the smoothest operations. 
Green Initiatives
Improve hotel guest experience with linen service joined with a commitment to sustainability. We honor the collective push toward sustainability in the 21st century. Environmentally friendly cleaning products and recycling and repurposing linens reduce the environmental impact in subtle but effective ways. 
Rammco Improves Hotel Guest Experience with Linen Service
Elevate the guest experience with clean, fresh, and well-maintained linens with a premier service second to none. Our steadfast commitment to cleanliness and hygiene, coupled with a wide range of quality linens and textiles, creates the welcoming atmosphere guests expect in their homes away from home.  
Our quick turnaround time, 24/7 customer service support, sustainability efforts, and flexibility in services offered round out a world-class full service that earns us the reputation as the industry standard. Call us today at (916) 865-6301, or email us to learn more about our products and services!
https://www.rammcoservices.com/wp-content/uploads/2023/01/Improve-Hotel-Guest-Experience-with-Linen-Service.jpg
667
1000
Rammco
Rammco
2023-01-24 19:17:36
2023-01-24 19:17:36
Improve Hotel Guest Experience with Linen Service