Guide to Restaurant Towels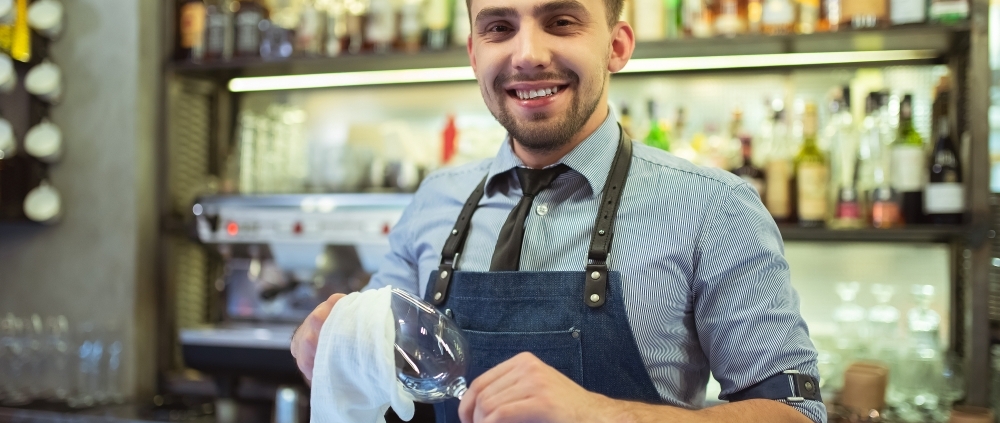 Running a restaurant means having the right materials to handle whatever the day throws at you. Spills, messes, smudges, and stains can happen at any time. Without the right restaurant towels, they can become a bigger deal than they should be. 
Here are the restaurant towels you need to stock up on: 
Bar Towels
A quintessential towel of the restaurant industry, the bar towel is the original multitasker. It has a home in kitchens, offices, bars, dining areas, washrooms, and dish areas. Known for their durability and absorbance, bar towels serve a variety of purposes. In the kitchen, they wipe utensils and surfaces used to prepare food. At the bar, they clean any drink spills. At the dishwashing station, they polish off any missed smudges. There's never a dull moment for a bar towel in a restaurant. 
What Makes a Quality Bar Towel?
Though they are the backbone of a restaurant's cleaning needs, not all bar towels are made equal. A quality bar towel will be highly absorbent, plush, wringable, and easily air-dried. Low-quality bar towels will poorly absorb and refuse to dry when needed. 
Microfiber Towels
Though they generally aren't very absorbent, microfiber cloths have their own special uses. Nothing catches dirt or dust more efficiently than a microfiber cloth. If you're doing a thorough cleaning of a place that doesn't get a lot of traffic, prepare for dust. If customers are present, you can't have dust or fine particulate getting into the air. The only towel to trust for such a job is a quality microfiber towel. Microfiber cloths are the safe, dust-absorbent, non-scratching material that will make those deep cleanings possible – even around customers. When at capacity, you can either shake the used one outside for more use or grab a new one.
What Makes a Quality Microfiber Towel? 
Low-quality microfiber towels will be thin, uncomfortable, and clingy. A cheap microfiber will feel parched and scratchy against your finger, yet fail to absorb any liquid with competence. As a result, they're uncomfortable to hold and difficult to find a purpose. Another annoyance of cheap microfiber cloths is their habit of clinging to clothing. It may be a small annoyance at any other time, but during a rush, it could be maddening. 
Glass Towels
Glass Towels are designed for streak and spot-free drying of delicate glass or silverware. If you've got high-end clientele and standard cleaning procedures don't get the shine you want, glass towels help. Not only relegated to utensils and glassware, but glass towels can also improve the appearance of many things. Your glass will be clearer, your mirrors will be spotless, and your metallic surfaces will be polished to impress.
What Makes a Quality Glass Towel? 
A quality glass towel will perform as advertised. Not just any material can be sewn together and called a glass towel. It takes a soft blend of fibers, the right textures applied to the towel's surface, and washability. 
Ensure Towel Quality with Rammco's Towel Service
Your restaurant doesn't need the added frustration of an incompetent, low-quality provider of towels. Rammco has the materials and industry experience to get you what you need before you need it. With Rammco, there will never be a question of quality. We're here to serve your needs, and your needs require quality materials to satisfy them. Call us at 1-916-865-6301 or visit our website for more information on our restaurant towels.
https://www.rammcoservices.com/wp-content/uploads/2022/12/Guide-to-Restaurant-Towels.jpg
668
1000
Rammco
Rammco
2022-09-14 15:58:37
2022-12-30 16:00:48
Guide to Restaurant Towels